Waterjet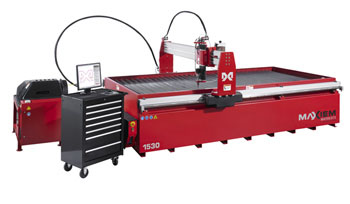 Need complex cuts? Tolerance and accuracy is within +/-.003" and waterjet cutting leaves no burrs or thermal distortion. With no material hardening or stress, we offer the best nesting ability possible.
Waterjet technology is used in so many industries and continues to be used as a solution in various areas where other machine tools cannot accomplish specific cutting projects. The abrasive waterjet is one of the most environmentally-friendly cutting equipment you will find in the industry with the use of water and garnet pressurized to cut almost any material accurately and with precision.
Advantages of using a Waterjet
The MAXIEM waterjet provides a great advantage over other machine tools. For diverse waterjet applications, the MAXIEM can cut a wide range of materials with norequired changes in setup. In addition, any material that is heat-sensitive can be cut using the MAXIEM. When cutting with waterjet technology, there is no heat-affected zone or thermal distortion, which can occur when operating other machine tools. Cutting thick material can be handled easily with a MAXIEM, and its simple maintenance creates a cost-effective solution to any shop. The MAXIEM waterjet system eliminates secondary machining steps saving you time and money.
Versatility of using a Waterjet
Controlling the jet stream on the MAXIEM waterjet is made simple with our OMAX Intelli-MAX® Basic Software, the only waterjet software written exclusively for waterjet systems. A waterjet provides greater versatility over other machine tools since you can cut various materials and thicknesses. We can provide waterjet cutting services for a wide range of materials such as aluminum, hardened tool steel, and titanium; exotics including carbon fibre, ceramic, Inconel® and composites; or architectural materials such as marble, granite, glass, tile and stone.